Harmony Kings are among the first in music society's 80-year history.
When the "Green River Chordcasters" were chartered in 1961 as a chapter chorus of the "Society for the Preservation and Encouragement of Barbershop Quartet Singing in America" (SPEBSQSA) only men were permitted to join.  Much has changed since then.  The chorus is now the "Federal Way Harmony Kings," the society is known as the "Barbershop Harmony Society" with chapters on six continents, and for the first time in their 80-year history, women are permitted to join.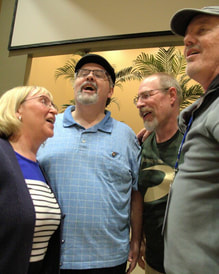 Women have been directing BHS choruses for some time (Karen Caldwell is the FWHK director since 2008) but not allowed to sing in contests or become full members.  This changed in 2018 when the society, as part of their "Everyone in Harmony" initiative, opened membership to all, with chapters given their own choice whether to admit women into their ranks or remain traditionally male-only, starting in January.  The Harmony Kings tried a very successful "Come and Sing" program last fall; inviting both men and women for free singing lessons and to join them on-stage for the annual Federal Way Community Appreciation Concert.  Shortly after, their members voted strongly to embrace this new culture.  The first female member was chorus director Karen Caldwell, naturally.  The second passed her audition on January 22, making Marilyn Soderquist officially the first "on the risers" with her "fellow" members, helping to build this new "mixed barbershop" sound.
As resident artists of the new Federal Way Performing Arts and Event Center, the Federal Way Harmony Kings are proud to make this progressive change, reflecting our diverse community in a more representative way, and invite all men and women who love to sing to spread the joy of a cappella harmony with them.
If you are a man or woman who loves to sing, join us at a Harmony Kings rehearsal.  Every Tuesday, 7:30PM at Journey Church in Federal Way.
58 Years of Harmony Kings Members!