PRESS RELEASE
CHORUS KEEPS SINGING TOGETHER WHILE "SOCIAL DISTANCING"
Federal Way Harmony Kings Virtual Chorus Fills Need for Expression
Federal Way Washington – April 21, 2020.  In response to the COVID-19 health emergency and social distancing orders, all activities including rehearsals, performances, singing contests and the annual show for the Harmony Kings A Cappella Chorus were cancelled since early March.
This left a big hole in the creative and social lives of their membership and in the community served by this fixture of the Puget Sound since 1961.  The "Socially Distant" virtual chorus was launched to keep people singing together even if they must be physically separated.  The project drew participants from several regional barbershop choruses, and from as far away as Nashville Tennessee!  Participants sang along with the Harmony Kings director, recording themselves on phones and webcams.  The individual recordings were put together and posted on their website for the world to see.  The video may be viewed at https://www.youtube.com/watch?v=YJvyreEi6LQ
The Federal Way Harmony Kings' 59th annual show, "How The West Was Sung" is rescheduled for Sunday, September 27, at the Federal Way Performing Arts and Event Center.  More information is available at https://HarmonyKings.org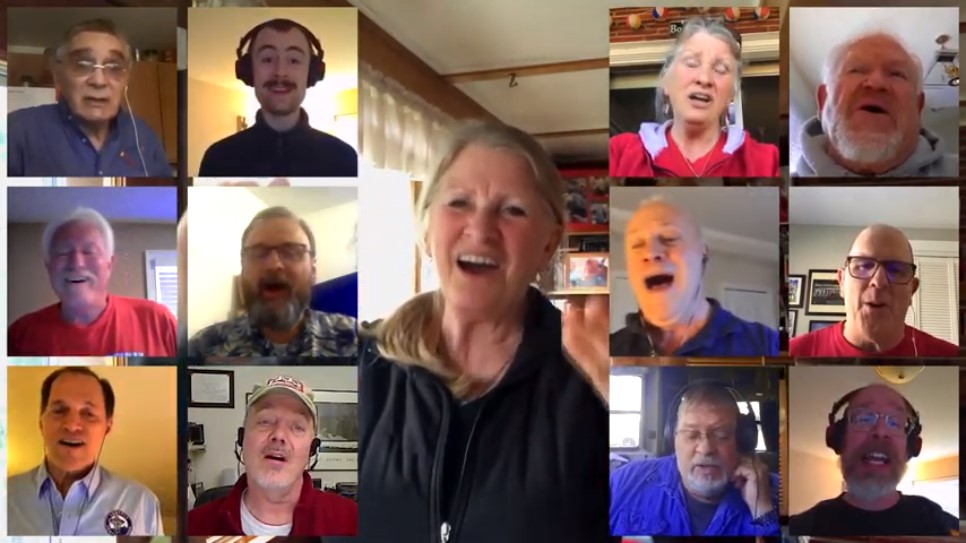 The mentioned video is available for "creative commons" use at https://www.youtube.com/watch?v=YJvyreEi6LQ
Talent and media releases are on file for all persons in the video with Silent Knight Productions.  info@SilentKnightStudio.com.
"Federal Way Harmony Kings" are a chapter of the Barbershop Harmony Society, a non-profit organization, and gives dozens of performances for public and private audiences each year in South Puget Sound.