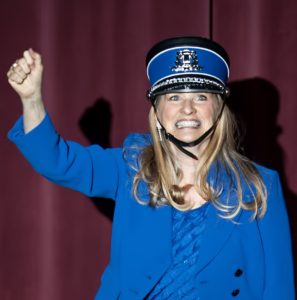 Our Director
Time in Barbershop: I was in a women's quartet when I was a senior in high school so that was 1972..48 years!
Favorite Memory in Barbershop: either singing with my son and daughter and her then boyfriend(now husband) as one of the very first mixed quartets to sing in the evergreen district division two competition! Maybe singing in my high school quartet the Four Get Me Nots with big quarters such as the OK 4, Classic a Collection, Jax of Harmony, and more. And attending the Men's National Barbershop competition in Kansas City in 1974 with my quartet! Also singing in my quartet the Four Get Me Nots at the SAI internationals in Vegas! We placed 2nd…to last! And watching my daughter compete at SAI international in her quartet Renegade twice and placing 8th both times…on the planet! Any time I can sing tags is also my favorite!
Offices Held: Director, Valentine chair, currently trying to be one of the marketing folks. Thanks to Donovan I am not alone!
My First Job: waiting tables at a cute Germanish restaurant called "Dumplings" and I resembled one at that time. The next summer I was a nurses aid so I could decide whether to be a nurse or a teacher. I chose teacher but learned amazingly helpful skills as a nurses aid.
Hobbies: photography, sewing, cooking, working out occasionally so I can eat more, art, obviously barbershop!
My Career: choir teacher at my alma mater teaching as a third music teacher with my very own high school choir teacher. I was teaching half band, half choir and my little brother Mark played trombone in the band! Pretty funny to teach your bratty adorable little brother and his friends. Then I quit to raise children and returned to teaching when Daniel was 7 as a . 2 band teacher at Mt Baker in Auburn. I continued to teach in 7 different schools in Auburn, all the levels, drama and music, and ended up teaching choir and guitar at AMHS for 10 years until I quit after commuting from University Place for two years. Subbing now!
Pet Peeve: doing financial/insurance business on the phone and not being able to talk to a human!